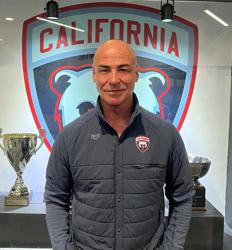 Guy Viau was born in Montreal, Canada, he learned how to skate before he learned how to walk. Guy was a multi-sport athlete. At the age of 16, he had to make the difficult decision to choose one sport over the other. He played Junior Hockey in Montreal at the age of 15-16, he was also a tennis player ranked in the Top 5 Juniors of Canada.
At that crossroad he accepted a tennis scholarship and went to college in Florida.
Hockey never left Guy's life, in the last 6 years Guy has been coaching at the Jr. Ducks of Anaheim Tier Level and made it to State Finals every year. He has been on board at the Bears Hockey Club for the last 2 years coaching at the Tier level alongside Peter Torsson, his friend and at times a fierce rival… LOL J . Both years they have also made it to State Championship Finals.
Guy will continue to coach alongside Peter Torsson and assume the Head Coach position at the Bears 16U AA for the upcoming 2021-22 season.
Guy's experience as a multi-sport athlete and a father brings a lot of value to share with young athletes both on and off the ice. Both Guy's sons are very good hockey players, his younger son will be attending St.Paul's School in NH next Fall (2021) and playing on their Varsity Hockey Team.
The Bears Hockey Club is confident that Guy's enthusiasm, experience with teaching and coaching the game of hockey will continue to be a valuable asset to the organization.